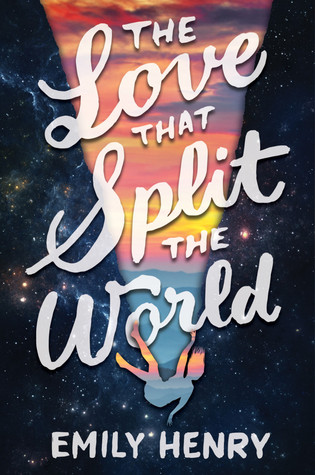 Title:
The Love That Split the World
Author:
Emily Henry
Series:
-
Genre:
YA, Fantasy, Romance
Pages:
400
Published:
January 26th 2016 by Razorbill
My rating: 5/5 stars


Goodreads summary: Natalie Cleary must risk her future and leap blindly into a vast unknown for the chance to build a new world with the boy she loves. Natalie's last summer in her small Kentucky hometown is off to a magical start…until she starts seeing the "wrong things." They're just momentary glimpses at first—her front door is red instead of its usual green, there's a pre-school where the garden store should be. But then her whole town disappears for hours, fading away into rolling hills and grazing buffalo, and Nat knows something isn't right. That's when she gets a visit from the kind but mysterious apparition she calls "Grandmother," who tells her: "You have three months to save him." The next night, under the stadium lights of the high school football field, she meets a beautiful boy named Beau, and it's as if time just stops and nothing exists. Nothing, except Natalie and Beau.
First sentence:
"The night before my last official day of high school, she comes back."
I was extremely excited to read this book.
So excited. When I read the summary it felt like a book that I would really like, and I was so right. I got into it in no time and I was loving it throughout the whole book. It was very intriguing and mysterious and just lovely. I just wanted to know more all the time.
The main characters in the books are Natalie and Beau, two very special teenagers whom I absolutely love. Their love for each other, though, is
very
sudden, like BAM. I usually don't find instalove enjoyable, because it's just extremely cheesy, but I enjoyed it this time. I didn't mind it,
because they actually had a real connection
. So it's totally okay. Natalie was a fun character to follow, she was interesting and she was in a very unique situation that I wanted to know more about. She stood up for herself, and I liked that. Beau was my favorite in this book. He was the nicest human ever. He was so sincere and shy and a total cutie. I wish that the book had been written from his POV too. That would've been... entertaining.
I didn't like that he disappeared so much as he did in the end of the book, because I wanted him to be around as much as possible, for obvious reasons... (... I didn't want him to die)
.
"Love is giving the world away, and being loved is having the whole world to give."
And now to the superficial things... The cover is so amazing. I LOVE it. I love the colors, the font and its magical feeling. And, the cover is accurate too; it actually has something to do with the book! This book's writing is absolutely beautiful, and the writing style is one I really prefer; clean, simple and spot on. I found it very easy to read as well, so that's great. This book is hardcover material (it's on its way to me at this very moment. Can't wait!)
The story is interesting and so intriguing. I absolutely
adore
the "time-traveling"
and the two different worlds with all the same but different people
, it's amazing. There are a few big twists in the end that amazed me.
Grandmother turning out to be Nat
was such a good idea, although I had seen it coming. Or at least the thought had crossed my mind before.
The ending is the part of the book that I liked the least. It broke my heart (or at least it made me very sad) and I'm not sure if I really understood what
really
happened. I
definitely
think that there was a hidden meaning in the story at the end (it has to be, otherwise: I'm SO disappointed).
I loved this book! ★★★★★
Why should you read this?
It's a book about love, betrayal, friendship, family, sorrow, longing.. The book is mysterious and interesting and makes you want to read more. MORE. AND. MORE. It has a great plot in the end and although it was confusing, it was FANTASTIC.