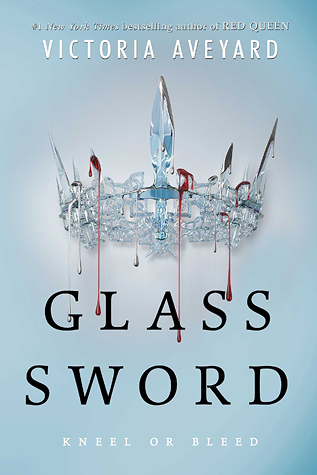 Title:
Glass Sword
Author:
Victoria Aveyard
Series:
Red Queen #2
Genre:
YA, Fantasy, Sci-Fi, Dystopia
Pages:
448
Published:
February 9th 2016 by HarperTeen
My rating: 5/5 stars


Goodreads summary:

SPOILERS IF YOU HAVEN'T READ THE FIRST BOOK!

Mare Barrow's blood is red—the color of common folk—but her Silver ability, the power to control lightning, has turned her into a weapon that the royal court tries to control. The crown calls her an impossibility, a fake, but as she makes her escape from Maven, the prince—the friend—who betrayed her, Mare uncovers something startling: she is not the only one of her kind. Pursued by Maven, now a vindictive king, Mare sets out to find and recruit other Red-and-Silver fighters to join in the struggle against her oppressors. But Mare finds herself on a deadly path, at risk of becoming exactly the kind of monster she is trying to defeat. Will she shatter under the weight of the lives that are the cost of rebellion? Or have treachery and betrayal hardened her forever?
First sentence:
"I flinch."
There will be spoilers down below if you haven't read the first book!
What did I like?
I liked the action
- It was a book full of action and that was something I was hoping for and needed for the second book. Something happened all the time and I was never bored. I usually don't read books with more than 400 pages, but this one was so fast-paced and easy to get into. It ended too soon. The action (fighting, war etc.) was more grown-up, tougher and bloodier than in Red Queen. Overall, Glass Sword was definitely bloodier. Maven does these things to Mare in this book; it's terrifying.
The bond (that shouldn't be there after all the things he did to her) between them
was too creepy and I think it may have made Mare a little.. psycho. Yeah, definitely psycho.
And the powers
- I loved all the new powers. The ones I liked the most were: to copy appearances; the flying; having a super memory and the deadly touch. There were a lot of them that I loved. All these powers made me think of
Unravel Me by Tahareh Mafi
, a book I absolutely love. Oh, and I also really enjoyed the power to change gravity. That one was amazing.
Kilorn and Cal
- I love both of them. They are two of my favorite characters in this series so far. Cal was so good to the kids (a soft spot) and they all adored him. It was so adorable. I don't know what I think about Cal+Mare right now, after reading the book. I used to be Team Cal, but I'm not so sure anymore. Maybe I'm just team Mare! Kilorn is the nicest human ever. He does everything for Mare. Exactly everything. I love that about him and therefore, I also feel sorry for him.
All the new characters
- The new characters were awesome and really enjoyable. I liked Nanny a lot, and also Mare's brothers. I loved all of them together, the Scarlet Guard and the Newbloods. At first, when all the new characters arrived, I thought that there would be some kind of love triangle. I wished that it wouldn't be, and it wasn't, happily. I didn't enjoy
all
the new characters, but most of them.
The world building
- It was much better in Glass Sword than in the first book. I found it quite hard to understand the world in Red Queen, so I'm glad that I liked, and understood, the world in book two. Victoria Aveyard really expanded the world in GS and I really enjoyed all the new places this book took me.
What didn't I like?
Oh, I didn't like Mare in this book
- She was such a snob and so annoying. I don't like what she has become, not at all. I liked her in the beginning of the book, but all of a sudden she was different and not very likable. She was really mean to certain characters, and I couldn't handle that. I marked two specific passages in the book when I couldn't stand her at all: "
Who is he to question my orders? He's no one. A ---- with only good luck and my foolishness to protect him."
and also
"I point to the crew working the camera, not bothering to remember their names."
Seriously? She made me so angry. She is under a lot of pressure I know, but she's stupid when thinking she's alone, because she isn't, obviously.
That ending
- It wasn't a bad ending, but it was a horrible cliff-hanger (in a "WOW-horrible-way") and
things
got a
little
over board. It was bad because the cliff-hanger made me want to read the next book
now
, and because of how every single one of Mare's relationships turned out. And I absolutely feared the last few pages.
I loved this book, more than the first - Five out of five stars, ★★★★★!


Why should you read this?
It was such a great second book! I enjoyed it more than the first. You should read it because you get to see a bigger perspective of the world. You will get to know the characters more, and if you loved the first one; you will love the second one.