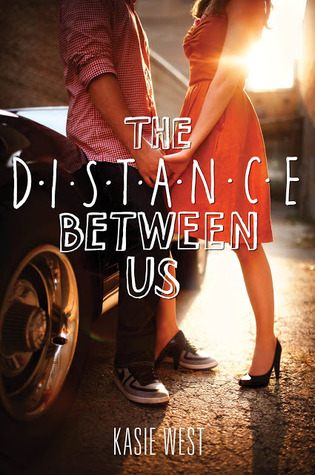 Title:
The Distance Between Us
Author:
Kasie West
Series:
-
Genre:
YA, Contemporary, Romance
Pages:
312
Published:
July 2nd 2013 by Harper Teen
My rating: 4/5 stars


Goodreads summary: Seventeen-year-old Caymen Meyers learned early that the rich are not to be trusted. And after years of studying them from behind the cash register of her mom's porcelain-doll shop, she has seen nothing to prove otherwise. Enter Xander Spence—he's tall, handsome, and oozing rich. Despite his charming ways and the fact that he seems to be one of the first people who actually gets her, she's smart enough to know his interest won't last. Because if there's one thing she's learned from her mother's warnings, it's that the rich have a short attention span. But just when Xander's loyalty and attentiveness are about to convince Caymen that being rich isn't a character flaw, she finds out that money is a much bigger part of their relationship than she'd ever realized. With so many obstacles standing in their way, can she close the distance between them?
First sentence:
"My eyes burn a hole in the page."
My review
I LIKED THIS BOOK SO MUCH! Actually more than The Fill-In Boyfriend... I think. This book wasn't as funny as The Fill-In Boyfriend though, but it was less drama and that was a huge relief.
I liked a lot of characters from The Distance Between Us. Almost all of them. Especially Caymen who was a really strong, down to earth and positive girl. Xander was lovely too, he was so nice and flirty and just perfect. I enjoyed reading about Caymen's friends as well. Both her best friend and her best friend's boyfriend were so funny. The characters felt real to me and that's all that matters. I liked that there weren't any exes or old BFF's in the book! Kasie West skipped all the unnecessary old-friends-drama and I really appreciate that (I can't stand it).
"Is that your subtle way of saying you missed me last week?" "I've missed my hot chocolate. I just think of you as the guy who brings it to me. Sometimes I forget your name and call you hot chocolate guy."
Caymen and Xander had these really cute days/"dates" (it may have been every Saturday?) together and I loved to read about those. They moments were both happy, sad and also very funny. I liked the scenes when they were together the most, definitely, because they made me happy.
The story got me hooked from the first few pages. It was a really fast paced book and it took me no time to finish it. I CAN'T handle writing with too much detail and "depth", so this was great because it was relaxed, simple and just.. straightforward. I love that about Kasie West's books.
I liked the "impossible love" or whatever you call it. The poor and the rich falling in love and so on. The book wasn't only about love between two people/teenagers though, but also between families, relatives and close friends. A perfect combination and perfect for a YA contemporary.
I really enjoyed The Distance Between Us by Kasie West and I gave it 4/5 stars!
Why should you read this?
You should read it because it's a fun, and cute and adorable book with many aspects to it (a lot of them sad and even a little heartbreaking). There's a cute boy, and quirky characters. AND SARCASM!